As a school we believe a smart uniform promotes unity and gives a sense of identity. We want our children to be proud of our school and wear their uniform with pride.
Children should wear a royal blue sweatshirt with the school logo, over a white polo shirt with grey or black trousers, skirts or shorts.
Girls headbands to also be in our school colours of white, black or blue.
Sensible black shoes, plain socks in black, white or grey and tights in black or grey.
In summer girls may wear blue and white gingham dresses.
A warm and practical fleece is also available, with the school logo.
Our staff lead by example and are expected to dress appropriately too.
Our uniform may be purchased from Andy Blair Schoolwear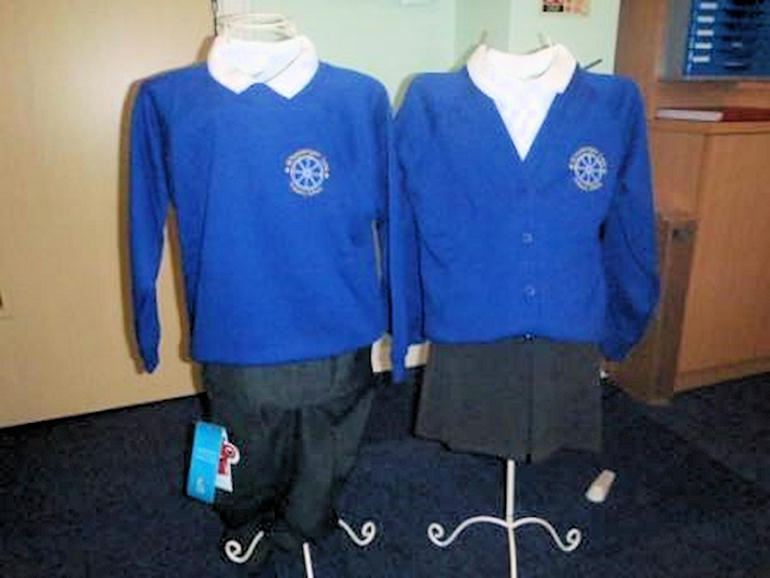 Our latest school uniform
Hair
Any hair long enough to be tied back should be.
We actively discourage extreme hairstyles such as hair colouring, tramlines and logos or any other style that could draw attention to the child and single them out from the rest of the school.
If as a school we feel a hairstyle is unsuitable we will ask for this to be rectified.
Jewellery
For health and safety reasons we actively discourage the wearing of all jewellery. However we do appreciate some children have their ears pierced and therefore small plain studs are allowed.
As a school we have a responsibility to ensure all children in our care are safe at all times. All jewellery, including those worn for religious observance, poses a risk of injury. We try to minimise this risk by asking that they be removed or made safe by covering with tape during all sporting activities.
Sports Kit
Children need to be wearing the right sports kit in order to access the different types of sport on offer, both through the curriculum and for extra-curriculum sessions that the school offer. Children will complete their sessions either outside on the playground or field or in the hall when the weather is poor or the focus is gymnastics.
The following kit is essential:
For outside:
Plain black or grey jogging bottoms
Blue Wheelwright Lane t-shirt
Plain black or grey sweatshirt or school jumper
Outdoor trainers.
For inside:
Blue Wheelwright Lane t-shirt
Black shorts
Black pumps with non-marking soles.
We ask that all sports kit is clearly labelled with your child's name.