Wheelwright Lane Primary School is situated in Ash Green, a small area of Exhall, on the Coventry and Warwickshire border.
The school is a well-established and integral part of the community it serves and the community itself provides the basis for parts of our curriculum. Children from local Warwickshire and Coventry areas attend the school. It is a very popular small school with a warm, friendly atmosphere.
Built over 80 years ago the school has seen many changes both to the fabric of the building and in the learning that takes place inside. More recently, a Nursery building has been added and the school now has responsibility for its own Nursery. Overall responsibility lies with the school's Governing Body.
The school has recently also taken over the running of the on-site wraparound care which runs from 7.45am to 6.00pm every school day and is staffed by Wheelwright Lane staff. All of our provision now lies within the care of the HT and school staff.
However the main thing we don't wish to change is instilling a love of learning into our children. We believe we are all lifelong learners together at Wheelwright Lane. We believe that we all need to 'Be kind, be safe, be fair' in our daily contact with each other and with the people we meet everyday.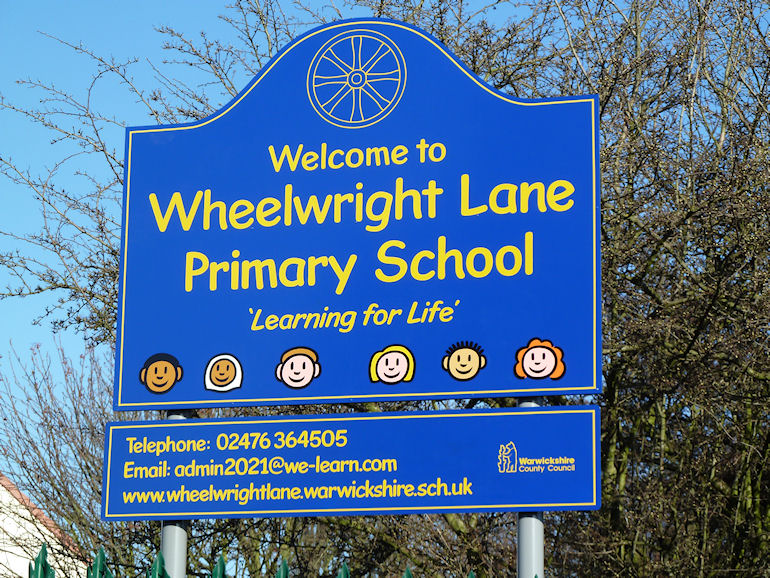 We have 210 children on roll in school and 40 children in the Nursery and are very lucky and unique in the area as we also enjoy very close links with our neighbouring school – Exhall Grange Specialist School and Science College. This enables some very successful joined up working to take place.
We are always striving to make new connections within our community and we value the working relationships our children have with our many community friends and visitors, including our friends at St. Giles Church.
If you would like to see our school for yourself, then please just get in touch to make an appointment and you will be made most welcome.
School Opening Hours
Doors open at 8.45am
School day starts at 8.55am
School day ends at 3.15pm
School opens for 32.5 hours per week.