Settling In
Before Starting Nursery
Before your child joins the Nursery they will be invited to attend a Play and Stay Session with a parent or carer to acquaint themselves with the setting and the staff.
Each family then receives a home visit from two members of the staff team the week that they are due to start Nursery. These are an informal way to get to know the staff that will be taking care of your child and to complete registration documents. The home visit is important because it helps your child to make a positive link between home and Nursery.
Key Worker
Each child is assigned a Key Person, who, along with all of the Nursery staff, will support you and your child through the settling process, and throughout their time in the setting.
Having a strong relationship with a key adult is essential to help your child confidently access the environment.
Transition
When your child first starts Nursery the sessions they attend will be shortened to enable children to build relationships, and get to know the environment. The session times will be increased to meet the needs of the child. In the long term, this will support your child to enjoy their time at Nursery.
Early Years Foundation Stage at Nursery
Children in the EYFS learn by playing and exploring, being active and through creative and critical thinking. Opportunities for these characteristics of learning take place both indoors and outdoors.
In a play based environment your child will be learning skills, acquiring new knowledge and demonstrating their understanding through seven areas of learning.
Children will develop the prime areas first:
Communication and Language
Physical Development
Personal, Social and Emotional Development
A good foundation in the prime areas will then support the children to acquire the skills in the specific areas:
Literacy
Mathematics
Understanding the World
Expressive Arts and Design
These seven areas are used to plan your child's learning. The staff will make sure that the activities are suited to your child's unique needs.
To support Communication and Language and Literacy we follow the Letters and Sounds phonics scheme. More information can be found on the Foundation Years website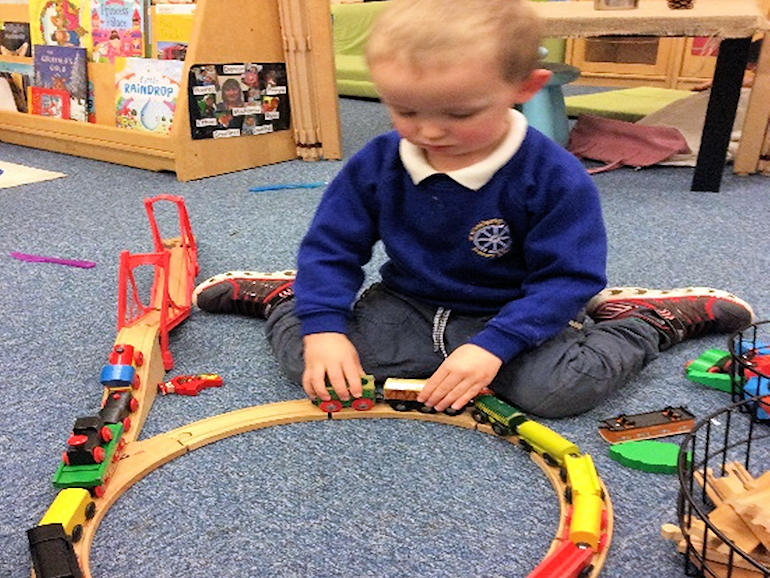 Intent
It is our intention to provide, within the context of our Vision Statement, a broadly enriched, rounded and stimulating learning environment where children can work with adults and peers in a climate of mutual respect to develop;
Confidence in their ability to learn.
The social skills necessary to learn.
The emotional capabilities to enable them to understand their feelings and to solve problems.
A strong sense of self.
We aim to provide children, with a well-structured, safe, active learning environment both indoors and outdoors. Through the children's interests and with reference to the Development Matters document, we provide a curriculum that encourages curiosity in a safe and nurturing environment. To strengthen this further, strong relationships are formed with parents through clear communication and a firm foundation of trust. This will enable the children to develop the skills, attitudes and understanding that will form the basis of lifelong learning and encourage them to become useful, active members of a diverse and constantly changing society.
Our intention is EYFS is an integral part of the wider school; we join in with the school community which in turn provides a smooth transition to KS1. 
Implementation
Our curriculum is delivered through a mixture of termly topics and children's interest. Details of topics can be accessed through the reception and nursery class areas on the website.
We greatly value the acquisition of knowledge and development of skills and have developed our own curriculum to reflect this. Parents will have access to knowledge organisers at the start of each topic to support their child's vocabulary and understanding. Parents will also be able to contribute to this by adding the interests of their child. Additionally, through out the year we organise exciting activities, outings and visits/visitors to enhance the children's learning.
Learning through play is at the core of our ethos enhanced through skilled practitioners through playful learning. We use the environment to ensure the children's needs are met through continuous provision, enhanced provision and following individual interests.  Staff teach learning objectives through whole class, small group teaching and 1-1 sessions within the environment. Our large outdoor area allows us to develop skills through a range of experiences such as Forest School, allotment area, and variety of play pitches.
Formative assessment takes place within every session and enables staff to scaffold and challenge each child's learning. Moving children's learning on may be planned using formative and summative assessment or instantaneous if appropriate.  Although Early Years has a separate curriculum we are keen to make sure our children are prepared for the next chapter in their school life.
Impact
The broad and balanced curriculum design ensures that the needs of individual children including EAL, SEND and disadvantaged, and small groups of children can be met within the environment with high quality first teaching supported by targeted interventions where appropriate.  Nursery follow focus children each week which enables staff to track process and identify and close gaps in learning. By following these approaches positive pupil outcomes are achieved.
The impact of our curriculum is measured through termly tracking in school and Early Learning Goals which allow us to measure outcomes against all schools nationally. We have developed Milestone descriptors from our new curriculum and ELG goals to assess children's progress from 0-5. We use this data to measure the impact of our curriculum and decide next steps to enhance the children's progress.
We endeavour for pupils to be Reception and then KS1 not only academically but  as independent, well rounded individuals who embody our values and carry with them the knowledge, skills and attitudes which will make them lifelong learners and valuable future citizens.
Forest School Sessions
Every Wednesday we offer Forest School sessions for the whole day where children are given the opportunity to develop their resilience and independence skills through exploration of the natural environment in all seasons. This allows the children to learn:
Awareness of their own bodies
How to be independent
Working together collaboratively
Developing their physical skills
Keeping themselves safe as well as assessing and managing their own risks
Thinking of their own ideas and sharing them with their peers
The child leads the way in their own learning
To take on challenges
Our Forest school sessions underpin the foundations of the Early Years Foundation Stage curriculum. The children will be able to transfer the skills learnt in Forest school which enable them to become resilient and independent learners for life.
Parents are invited in to join us during our Forest School Sessions each term to share this learning with their children.
We are very lucky to have a qualified and experienced Forest School Leader; Mrs Mary Pinder, who comes in every Wednesday to deliver our sessions.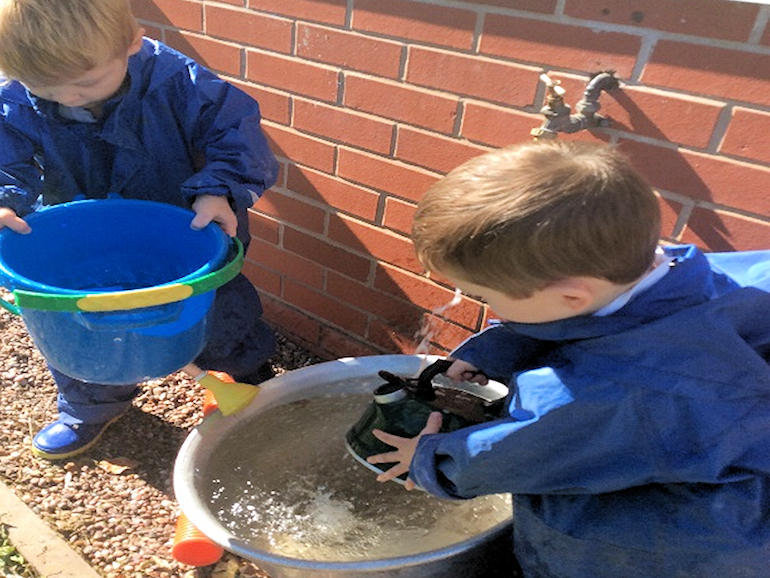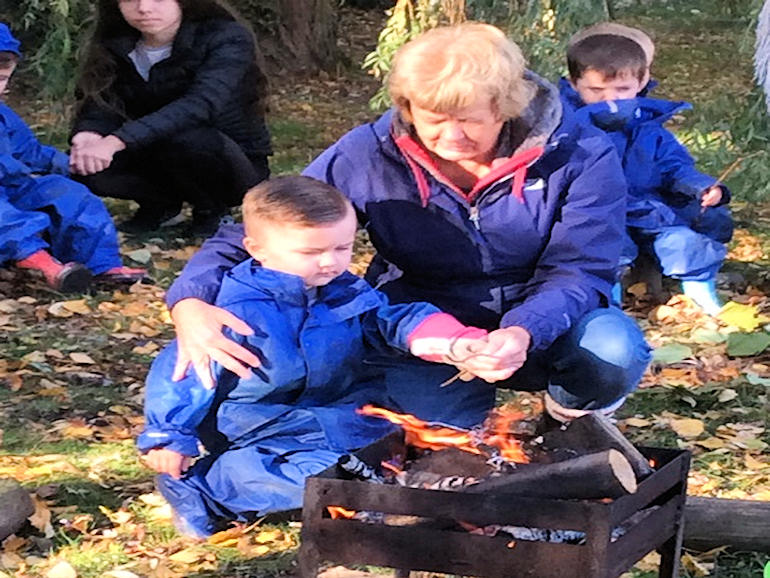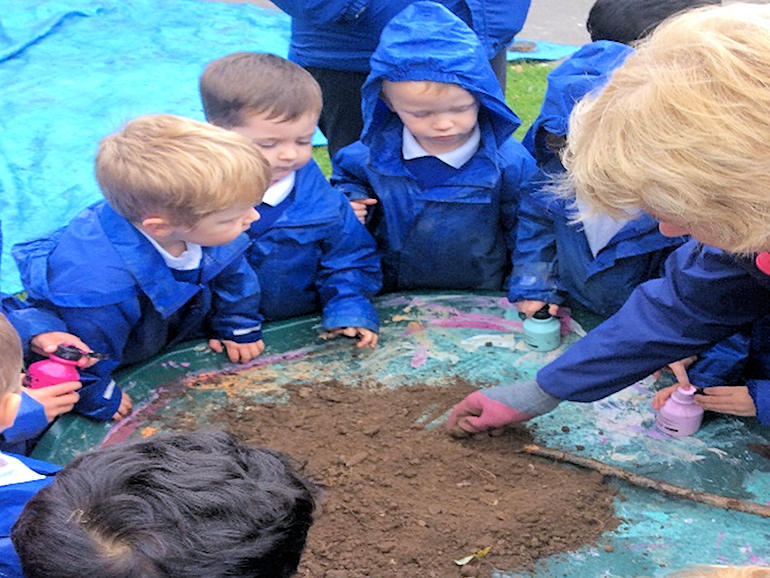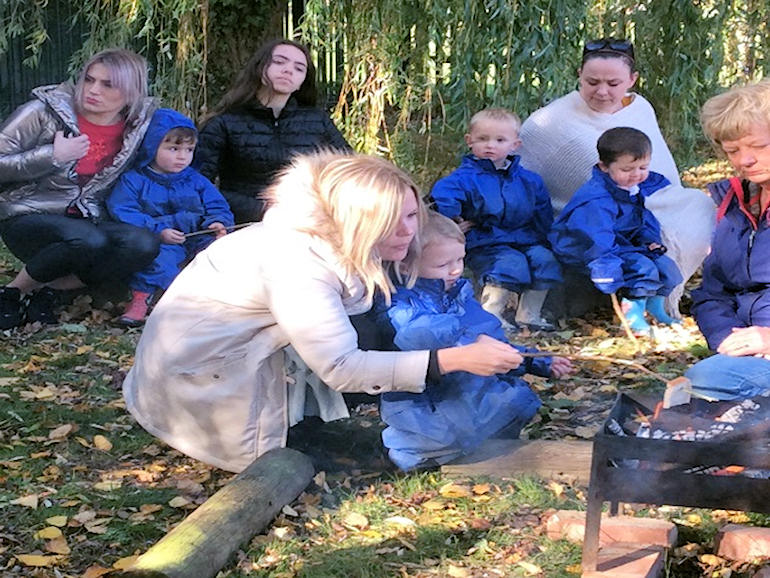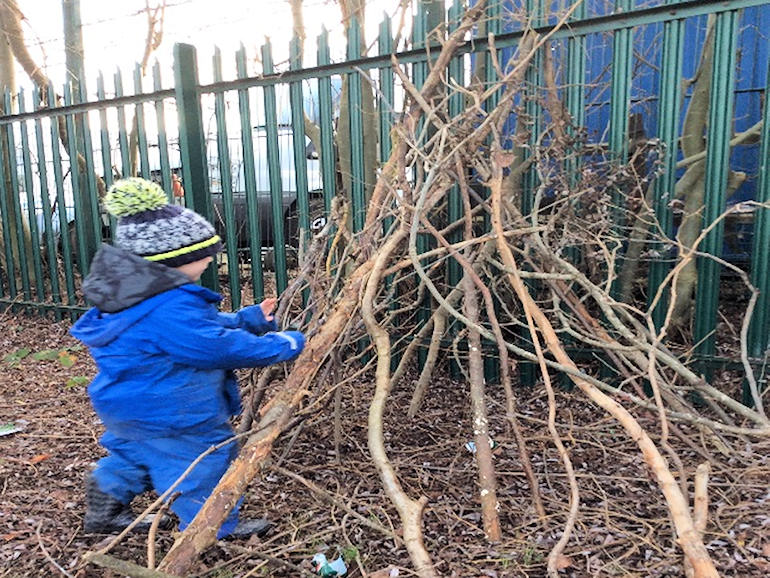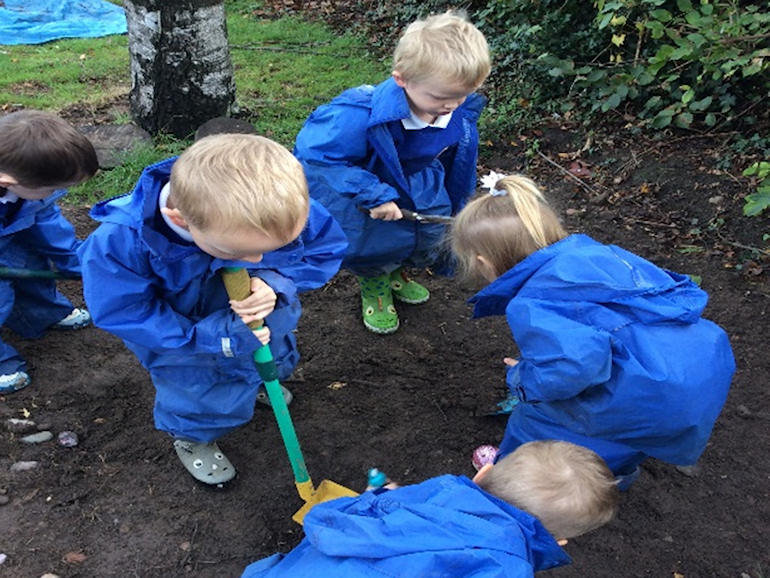 At Wheelwright Lane Nursery we believe that for a child to be ready for school they should:
Be happy and confident when separating from their main carer.
Be able to focus their attention and listen when required.
Have sufficient language to be able to communicate about themselves and their interests.
Be able to share and take turns with others during play.
Show an interest in the world around them.
Be able to share and elaborate on stories that they have heard.
Be aware of boundaries and be able to follow simple routines.
Be confident in their own self-care.
When it comes time for a child to leave the Nursery and make a move to another setting, or school, we will do everything we can to ensure that their transition is as stress-free as possible.
We will liaise with other settings and make sure that all of the child's developmental records are transferred promptly. Staff from other settings are welcome to observe and meet children in our nursery to help with the transition process.
Children who will be moving into the Reception Class at Wheelwright Lane School will be able to spend increasing periods of time in the Reception classroom during their final term in the Nursery. They will get to know the Reception staff and become confident in the school environment.